Protective Framing & Screws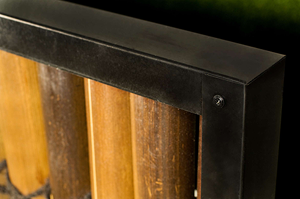 The capping was first designed to protect the bamboo ends where the product had been cut to length; it has since become a very popular aesthetic addition as well as offering additional protection. The capping does not allow the ends to be exposed to the elements, like the continual weathering of rainwater and scorching Australian sun. It can also be applied to the side ends, framing the fence in a tidy black trim.
This stylish capping has been designed and prefabricated to easily slip over the top and sides. This contributes to the fencing systems style and strength; adding very pleasing and attractive finish and assists in stabilization.
Not only does it provide protection, but a neat and tidy finish allowing the bamboo to be used in the most up-market applications.
Installing the fencing system has been made easy with the provision of simple step by step instructions. You can discover more about this on our installation information page.
Contact Us or request a quote for protective capping.
Fixing Screws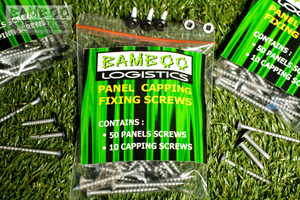 Our experience and extensive installation base has let us find the best solutions for fixing your bamboo fencing panels to various structures. From this, we have developed a simple cost effective way of purchasing screws for you mounting the panels.
The packs come with 50 screws for fixing the bamboo panels to your fence and 10 screws for fixing the Bamboo Fence Capping to your panels.
---